Energy Star states that the average home spends about $1,500 per year on energy bills and according to the Environmental Protection Agency (EPA), a programmable thermostat can save you up to 30% on your energy costs.
Why you need a Programmable Thermostat:
Programmable thermostats can be set to automatically adjust the temperature of a home according to the day and time. Programmable thermostat can be adjusted for both summer and winter seasons.
For homeowners who work outside the home during the day and have a different schedule on the weekend, a programmable thermostat can offer many benefits. Programmable thermostats can automatically store settings and repeat those settings each day. However, they can still be manually set, overriding the programming when desired. A programmable thermostat generally allows more precise temperature management and a wider range of selections, offering a number of programming choices.
Most conveniently, it provides daily programming that allows one schedule to be used each day. Additionally, you can program your thermostat with different settings for the weekend. In fact, most programmable thermostats have a full seven-day programming ability, allowing for a different temperature schedule for every day of the week.
Aprilaire Programmable Thermostat - 8400 Series
The 8400 Series Programmable Thermostats are easy to program and offer a combination of simplicity, value, reliability, comfort and style.
Programmable Thermostat Features:
Easy to Use Temperature Control and Manual Override.
Automatically starts your HVAC system at the right time in order to reach the desired temperature at the right time.
Choice of 5/1/1 Day or 5/2 Day Programming which allows customizing your weekday and weekend needs.
Large LCD Screen with high contrast provides easy reading.
Adding an optional outdoor sensor will provide you the with outdoor temperature.
Circulate Fan Mode will Cycle the fan on for 10 minutes every 30 minutes, thus circulating the air through your home for overall comfort.
Service Reminders indicate when you should change your air filter and your humidifier's water panel to keep your equipment running effeciently.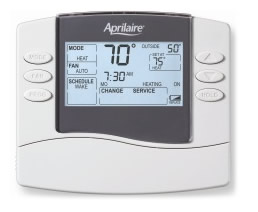 Trane Programmable Thermostat Model XL900
The XL900 Series Comfort Control makes adjusting your home's climate extremely convenient by linking all of the main components of your system to maintain the perfect temperature and humidity in your home.
Programmable Thermostat Features:
7-day programmable and Energy Star qualified
ComfortLink II Compatibility
Diagnostic Alert light
Critical Error codes messages let you know if a problem arises
Bright back-lit display with interactive touchscreen
Programming functions stored in permanent memory
Auto changeover
Programmable fan
Remote access with Telephone Access Module accessory
Filter change reminders
Humidifier pad change reminder
Humidity Sensor
Dehumidification control
Keypad lock
Built-in Outdoor temperature sensor
Aprilaire Programmable Thermostat Model 8570
The Aprilaire Model 8570 Thermostat offers a great design and unsurpassed performance, premium features and benefits and is compatible with virtually all equipment types, from single or multi-stage, to heat pump or hydronic systems.
Programmable Thermostat Features:
Easy to Use Temperature Control and Manual Override
Adjusts your home's temperature up to four times a day for any combination of days, or every day individually
You can program the fan setting for "On" or "Automatic" during each event of the program
The soft blue backlighting with a large display allows the 8570 to be viewed at any light level
Automatically starts your HVAC system at the right time in order to reach the desired temperature at the right time
Enhanced Humidifier Performance: By connecting to an outdoor sensor or Automatic Humidifier Control, the 8570 displays the outdoor temperature, indoor relative humidity and providing you with the ultimate in humidity control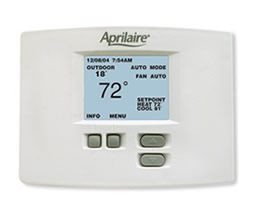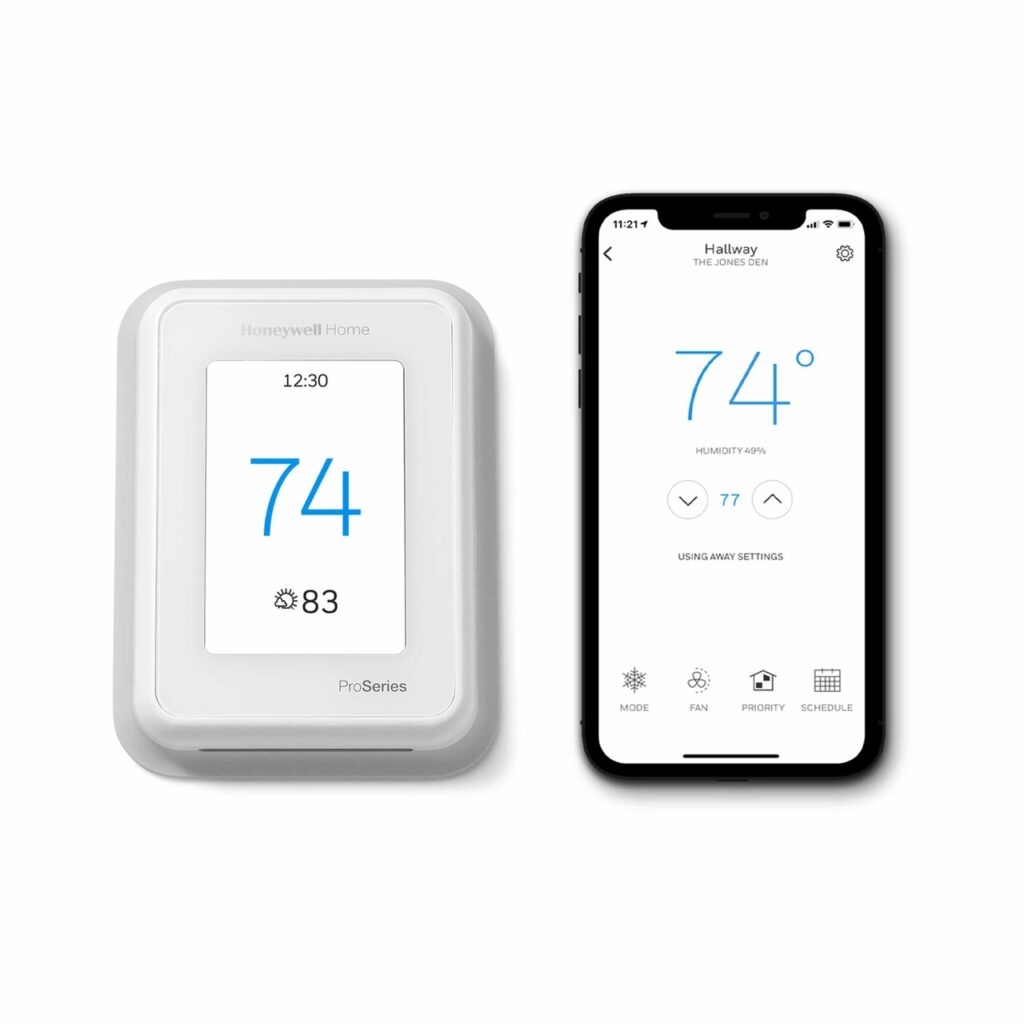 The T10 Pro Smart Thermostat with included REDLINK™ indoor room sensor is the newest member of the T Series lineup of thermostats utilizing both RedLINK and Wi-Fi capabilities. It allows homeowners to prioritize spaces in their house where they want to direct their comfort. 3H/2C Heat Pump or 2H/2C Conventional, Geofencing and flexible programmability available. Utilizes the Honeywell Home App. ENERGY STAR® Certified.
Application:
Up to 3H/2C Heat Pump systems or up to 2H/2C Conventional systems.

Dual fuel and aux heat lockout.

Control a humidifier, dehumidifier, or ventilator.

Wired outdoor sensor or Internet weather.

Wireless indoor temperature, humidity, and motion sensors.

Geofence capable.

Selectable ranges stops: min and max heat and cool.

DST enabled.

5-year warranty.
With the Wi-Fi VisionPRO, you'll get comfort, convenience and connectivity. Using an existing Wi-Fi network plus Honeywell's free Total Connect Comfort services, the Wi-Fi VisionPRO allows you to remotely control your comfort settings and manage your energy costs – with ease.

Overview:
Residential or commercial use.

Intuitive programming for easier setup. Single-screen scheduling process is faster and more user-friendly.

Remote comfort control via computer, tablet or smartphone – easily monitor and manage home comfort from any device, anywhere with Honeywell's Total Connect Comfort app. No need for Redlink!

Universal application across more system types – Residential or commercial, the Wi-Fi VisionPRO 8000 works on systems up to 3H/2C heat pump and 2H/2C conventional – including dual fuel.

Equipment check/change reminders – Lets homeowners know when it's time to change the filter, humidifier pad and UV bulb

Programmable for annual energy savings

Built-in Ventilation Controller – Lockouts for temperature and humidity prevent pulling in hot or humid air. No extra ventilation controller or remote sensor needed.