From businesses, schools, retail and specialty services, a reliable and properly designed HVAC system is critical for employees and customers comfort, as well as consistently controlling the climate in which product is stored and displayed.  We can service, repair and replace commercial systems to meet our client's needs and budget.  Below are just a few of the wide array of commercial systems Frosty services and installs.
Carrier A Series Rooftop products are pre-wired and charged with refrigerant and tested in both cooling and heating modes at the factory. All models feature an industrial grade cabinet with fully hinged access panels. Superior supply fan performance with up to 3.5 in. external static pressure is standard.
Units are available in Constant Volume (CV), Staged Air Volume (SAV), or Variable Air Volume (VAV) applications. A variety of electric heat options are available. Units come standard with ComfortLink™ control and Scroll compressors on dual independent TXV controlled refrigeration circuits.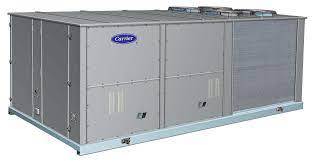 Voyager® 2 – 12.5 – 25 Tons & Voyager® 3 27.5 – 50 Tons
Key Features:
Available in gas/electric, electric/electric & heat pump only for Voyager 2

Dependable MERV filtration that removes contaminants as small as 0.3 microns

Fast delivery to keep projects on track and sites up and running

Energy efficient performance lowers costs without sacrificing comfort

Engineered for performance and durability

Connected-ready to optimize HVAC performance

Fully customizable

Designed-in features simplify installation and service

Trane quality guarantee    
YORK® Sun™ Pro Rooftop Units are service-friendly and life-cycle cost optimized, with the most complete range of features and options in this tonnage size.
A/C and heat pump models in convertible airflow configuration

Standard (up to 12.2 EER/14.8 IEER), high (up to 12.2 EER/15.2 IEER) and ultra-high efficiency models (up to 14.0 EER/ 21.2 IEER)

Separate hot gas reheat models