Central Air Cleaners are installed as part of your home's central system completely out of sight and silent. You will get a healthier home environment by removing dust and allergens The following electronic air cleaners are a sample of what we offer, contact us and we will install the right model which meets your needs.
Why you need Electronic Air Cleaners:
Improve Air Quality Un-cleaned air carries Cigarette & cooking smoke, Pollen, Mold & dust, Animal dander, Bacteria & viruses that can attack people in your household that suffer from allergies and often catch colds during winter.
More Effective than Standard Filters: An Electronic Air Cleaner is up to 40 times more effective than a standard throw-away filter.
Helps Allergy Symptoms: Electronic Air cleaners provide the much needed relief from these airborne contaminants. Doctors often recommend whole-house air cleaners to patients who suffer from allergies and respiratory problems.
Energy Savings: Airborne contaminants can build up in your heating and cooling equipment which can reduce its efficiency by as much as 25%. A whole house electronic air cleaner can filter out airborne particles and help maintain the efficiency of your homes HVAC system resulting in energy savings.
Aprilaire Electronic Air Cleaner - Model 5000
The Aprilaire Model 5000 Whole Home Electronic Air Cleaner has been rated #1 by a leading products ratings magazine. The model 5000 electronically charges particles and traps them like a magnet using 72 square feet of Aprilaire-branded filtering media.
Electronic Air Cleaner Features:
Traps 99% of airborne contaminants such as pollen, mold and other spore-sized particles.
Eliminates 98% of airborne bacteria-sized particles.
Removes 94% of dust which the EPA reports can trigger asthma.
Captures 80% of airborne particles the size of tobacco smoke.
Removes up to 80% of airborne virus sized particles (something no other air cleaner in the industry can do).
Easy to maintain, the model 5000 needs infrequent replacement of filter media and wiping down of ionizing wires.
There is no need for the frequent and time-consuming cleaning of collector cells which is required by other electronic air cleaners.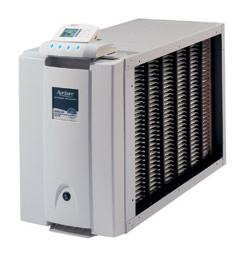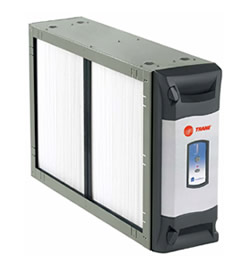 Trane Electronic Air Cleaner - Model CleanEffects
Trane CleanEffects utilizes patented air cleaning technology to remove up to 99.98% of airborne allergens from the air that passes through the filter. It is 8 times more effective than best HEPA room filter and up to 100 times more effective than a standard 1″ air filter.
Electronic Air Cleaner Features:
Removes of up to 99.98% of particles and allergens from your home's filtered air. It removes particles as small as .1 microns 1/1,000th the diameter of a human hair.
An industry-leading clean air delivery rate of 1,200.
Low operating costs, with no replacement filters to purchase.
Cleaning indicators are easily visible on the outside of the unit.
Filters are easy to clean. Just vacuum or rinse once every 3 to 9 months (varies by usage).
Easy installation and Quiet operation.